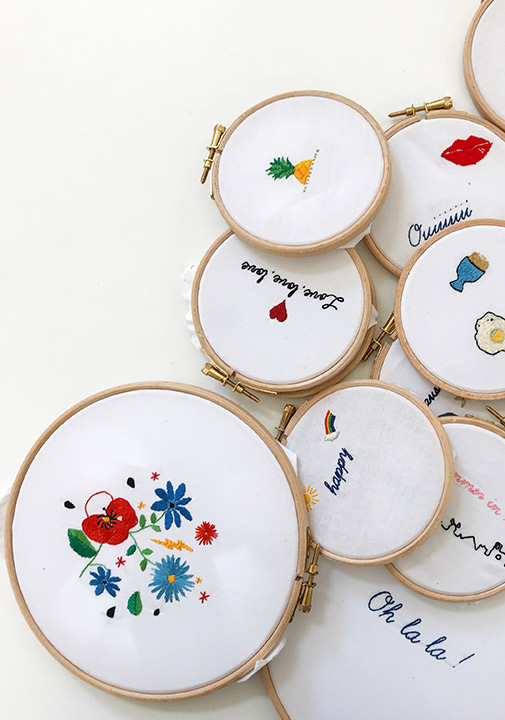 HOW DO WE WORK, WHAT ARE OUR COMMITMENTS?
We don't talk about it much because for us it's obvious, but since its creation, Britney has been concerned with having a positive impact on the environment. The brand strives to use suppliers located in France or Europe, offering quality materials. For example, we do not use disposable embroidery hoops or threads that will bleed. In addition, we work with oeko tex textiles and recycled materials.

Recently, , we have been gradually replacing all our packaging with 100% recyclable and compostable corn starch packaging, which allows us to further reduce our ecological impact. We work with ESATs workshops that helps us make our products whose objective is the social and professional integration of disabled adults. All of our prints, cut-outs (paper and leather) as well as the packaging are made by us in our workshop in Paris or with the help of leather craftsmen.

In summary, respect for our environment is an integral part of our identity. The same goes for the choice of our patterns, if we like an illustration we will try to work with the person who is the creator.
HOW DID WE IMAGINE THIS CONCEPT?
Easy Embroidery kits were created when I came across a paper that could melt in water. I bought some to try and in fact it didn't work at all (it was machine embroidery film), but the idea had taken root because I found that the idea of embroidering on clothes was great!
I went looking for the ideal paper for what I wanted to do and in fact, it existed! It had simply been sleeping in the drawers of a haberdashery wholesaler for 20 years!
Before making this discovery, my experience in embroidery stopped at the cross-stitch that I had practiced to adorn my towels with my initials before leaving for snow class (which by the way, didn't prevent losing them...), so I was very far from thinking that one day I would make it my job. And then I tried, and it changed the course of my life, at least for the last six years.
Since then, we have been offering embroidery kits for beginners or for anyone who wants to embroidery designs on their clothing.
I also had the chance to write an embroidery book for Glénat which allowed me to formalize my approach.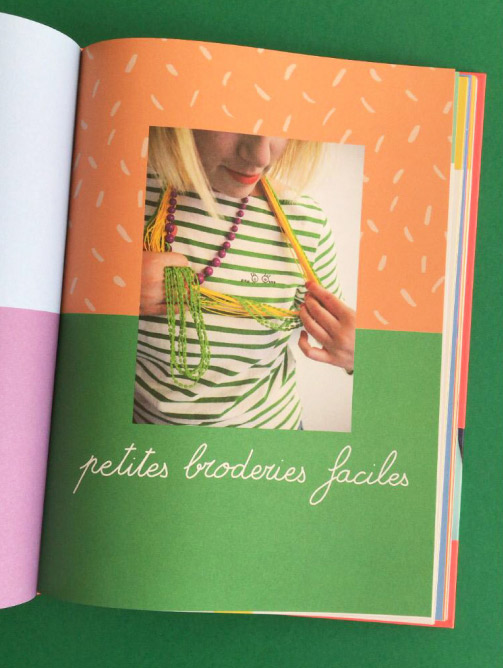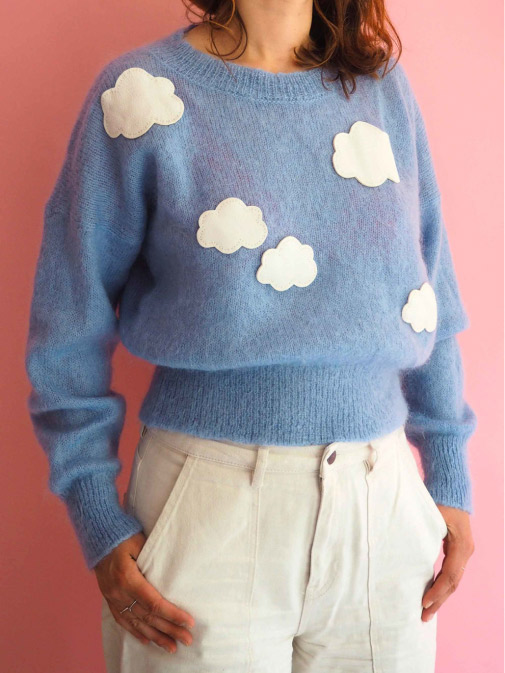 BUT ELBOW PADS AND PATCHES IN ALL THIS?
Well, I know you are going to say it has nothing to do with all this, but, but, ...
I don't know how I do it but, I always find holes in the elbow of my sweaters. I do not like to throw clothes away, and as I couldn't find elbow pads that suits me, I made them! Sometimes in recycled leather via upcycling wholesalers or with luxury suppliers to ensure traceability of quality materials :).
And then the iron-on patches are convenient for repairing small holes or masking stains on t-shirts. Our offer will be enriched with new products so stay tuned!
AND BY THE WAY, WHY THE NAME BRITNEY POMPADOUR?
So, I had this embroidery kit project in mind, but I didn't have a brand name. My friend Jérôme H. found it in 3 minutes during a lunch: Britney for the pop side, Pompadour for the stuck up side!
I liked it immediately, it fit perfectly with what I wanted to do and offer. And there it was, my Kiki, and that was that!
WHO'S BRITNEY?
My real first name is Maÿlis (it is of Basque origin, but not me). I was born in Paris about forty years ago and I grew up in the Paris region where I still live, at least for the moment.
After a rather classic background - preparatory school then business school at ESC REIMS -,two internships at Hilti (super super red drills), then at Dulux Valentine (paints of all colors) I worked in marketing for a company specializing in filling and decorative coatings at TOUPRET. Contrary to what you may think, it was very interesting.
Then, I resumed my studies in interior design and decoration which by chance led me to Nabaztag® rabbits where I worked for a few years (a kind of connected assistant, ancestor of Google Home). Among other things, I interpreted the voice of the rabbit in French and I wrote his texts. I had a good laugh.
After being liquidated, I joined an architecture and contemporary art office for which I did project management and there too, I had a good laugh.
And then I found myself without a job and there, I laughed less. But I took the opportunity to look for a business idea. I've always wanted to run my own business, probably because I like to touch everything and always full of ideas: packing boxes, responding to after-sales service, attending trade fairs, setting up stands, drawing models… In short, I like to get my hands dirty!
Ready to get started?
Discover our range of easy embroidery kits, patches and patches for beginners